Lakes Alive Festival and Foreshore News
Clayground set off for Kendal in the beautiful Lake District National Park over the August bank holiday weekend to take part in the Lakes Alive Festival. Cumbria is famed for its history of aviation as well as being home to wondrous bird life. No surprise then we were asked to create a sculpture on the theme of flight.  The public transformed 1000 kgs (a metric ton) of heavy clay into all manner of flying machines, creatures and fantasy creations.  Kendal residents and visitors made flocks of starlings, eagles and bi-planes, ladybirds and beetles, rockets and witches, angels and dragons, flying pigs, lions, and even a flying Herdwick sheep.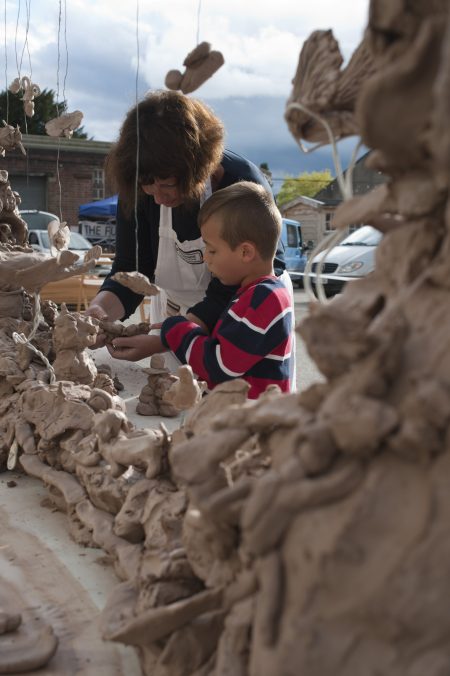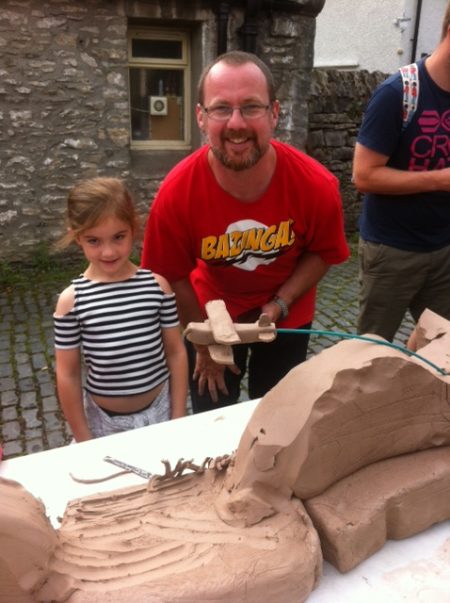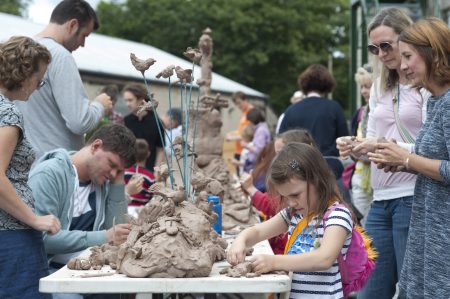 (Images Caroline Gervay and Clayground)
The sun shone all weekend.  People clearly appreciated the opportunity to get making.  They said things like:
'I don't make anything creative, I am not creative, in fact it's always a disaster. But I got a lump of clay in my hand and suddenly it became something. I'm really, really pleased with it'
'You don't need all the rest – all the complicated things – just a lump of clay can make people excited – just look at how many are engrossed'
'My daughter is a typical teenager – it's really rare she opens up. It's amazing she's so involved with this and has talked so openly to you while making things'
 'It's kinda pathetic how happy this is making me feel..!'
We were delighted that teachers, community group leaders and makers turned up at the end of the event for the big take-away, recycling the sculpture for another chapter in the creative life of clay.
Thames Foreshore Walks recent and future
We were back again on the Thames Foreshore on 3rd September, the 350th anniversary of the Great Fire, looking for ceramic traces of this momentous event in the capital's history.  We found several tiles burned in the fire (image left below).  We found several treasures from other eras including a Victorian slop bowl with a rural scene and a14th century 'encaustic' floor tile . The 'sun' above the cottage is in fact caused by a fault in the glaze into which Thames water has seeped, staining the crackle around the fault.  The tile was probably made at Penn in Buckinghamshire.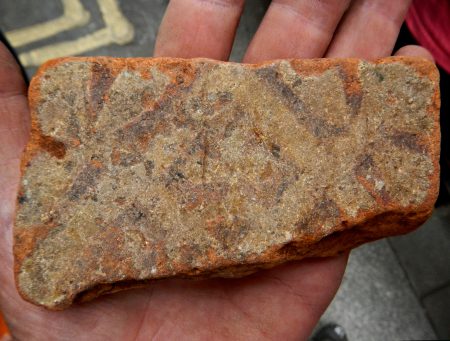 (Images Clayground and Mike Webber)
The next walk and the last of this year is to be on Sunday November 6 at 0945.  We shall be exploring the Greenwich Town Beach.  The walk will be led by Mike Webber, archaeologist and leading authority on the history of the Thames. The walk lasts approximately 2.5 hours. Cost is £20 for adults, £15 for under 18s.  Walks are not for anyone who lacks confidence using stairs or walking on uneven ground.  Please note access to this part of the beach involves climbing over a hip-height barrier.  Children 8 and over are welcome. Please do not plan to bring a dog. If you would like to book a place, please contact Clayground.  Details of meeting location will be sent on confirmation.
Other News
If you are an Instagram fan start following us on claygroundcollective.  Thanks to Clayground Associate, Claire West, for posting images.
We look forward to seeing you at an event soon.
Civic Spaces, Exhibitions
Museums and Galleries, Regeneration
Maker spaces, Rural Sites
Archaeology
Youth and Adult Community Groups, Professionals
Art Groups, Families, Students
Collaborations, Archaeology Sheets
Commissions, Thinking Hands? Research
Knowledge Exchange