A recent walk on the Thames Foreshore and forthcoming events
We took time away from post Referendum turmoil on Friday 24th June to explore the Thames foreshore at Bermondsey with archaeologist, Mike Webber.
The Bermondsey beach at low tide has a mystery to it.  Tower Bridge frames the view towards the City.  Resting on the mud between the beach and the bridge are the garden-topped barges at Jacob's Island, some carrying full-sized trees.  A section of embankment juts over the foreshore with a dark galleried space beneath strewn with relics.  A giant ship's rudder emerges from the sand and pebbles. A great timber windlass bears witness to the ships hauled up the beach for dismantling.  Ship-breaking was the major activity here for centuries.  Everything above each boat's waterline was recycled and re-used, everything below simply jettisoned.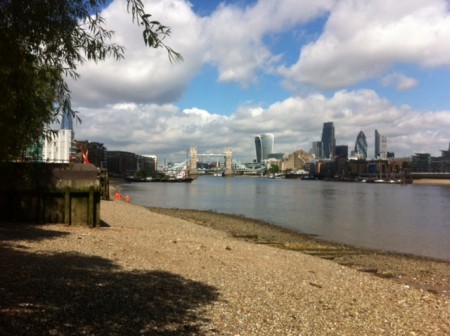 Bermondsey Beach
Flints cover the beach. Some have holes where the chalk has dissolved away to leave neat holes.  These are known as 'hag stones' often used to ward off evil spirits or deter witchcraft.  Some flint fragments looked as though they might have been tools. For the most part however, Mike Webber deemed the fractures resulted from accidental breakage. Then one of the party, Patrick Semple, found a fragment with marks of human skill, traces more obviously deliberate and elegant. There was evidence of a strike aimed to carry shock waves in even ripples through the body of the material to split the stone to optimum effect leaving the sharpest of edges. Everything points to it being part of a neolithic leaf-shaped arrow head made between 4000-2000 BC. Here is an image courtesy of Patrick.
We found may other treasures too.  Andreea Vasilcin found the rim of a Tudor cooking pot (left below) and a beautiful fragment with coloured slips and black slipped ground. Mike thought this might be imported ware – perhaps from India. (right below).  Duncan thinks it is probably quite recent given the colours of the slips.  Let us know if you recognise the decorative style.
We also found a 17th century leather insole, the pressure mark of a heel clearly visible; many fragments of English Delftware with its characteristic yellow clay body; the lid of a yellow-ware teapot; the edge of a Georgian plate; a Victorian paste jar and many other treasures.
Our next walk is on Saturday September 3rd.  We will be visiting the City shore again on the North side of the River.  There are just a few places left. Please get in touch to book a place by contacting us here or let us know if you would like to be added to the list for notification of the next dates.
As to other events, we are hosting a late night session at the William Morris Gallery, Walthamstow, on Thursday August 4th.We shall be staging Murmuration, a large-scale participatory sculpture inspired by flight, at the Lakes Alive Festival, Kendal on Saturday and Sunday August 27 and 28.  It would be great to see you.
Civic Spaces, Exhibitions
Museums and Galleries, Regeneration
Maker spaces, Rural Sites
Archaeology
Youth and Adult Community Groups, Professionals
Art Groups, Families, Students
Collaborations, Archaeology Sheets
Commissions, Thinking Hands? Research
Knowledge Exchange