Thames Foreshore Archaeological walks
The next foreshore walk on Sunday 8th October is now fully booked.  If you would like to be notified of future dates, please email us by clicking on contact here.  Please let us know how many people you wish to book for and ages of any children.
The walk lasts approximately 3 hours.  It is not recommended for anyone who is not confident using stairs or walking on uneven ground.
The walk costs £25 for adults and £15 for young people 8-17.
Please be aware the walk is not suitable for anyone who is not confident using stairs or walking on uneven ground.  Please do not plan to bring a dog.
Further information and payment details will be sent on booking.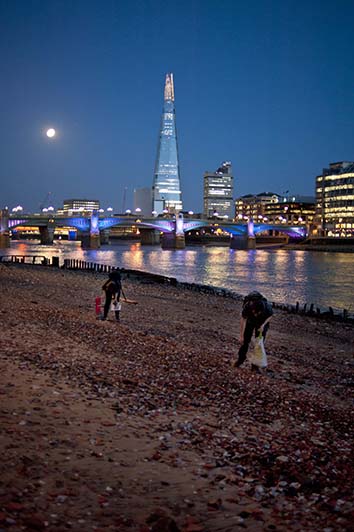 Image: Caroline Gervay
Ceramic fragments lie in drifts where dumping was encouraged to stabilise the shore for loading, unloading and maintenance of vessels.  In our investigation of clay in all its forms, we regularly host walks with archaeologist Mike Webber to forage for traces of London's history from Roman to Victorian times.
In 2014, we invited poet Barry Taylor to come with us on a foreshore walk with Mike.  Barry wrote Foreshore Findings about his experience.
Foreshore Findings 7

Unhallowed
potter's field
unharvested remains
strewed random
over stony ground
Deep memory trove
we scavenge
its shifting crags
and banks,
in the tracks
of Mud Larks,
Night Plunderers,
Scuffle Hunters
Faint hubbubs
unstoried voices
from raucous wharves
and market halls
packed clamorous docks
and burning streets
unloosed
by each new tide
from the crunch
and whisper
of foreshore
stone and clay
we stoop
and listen
Artist specialising in clay, Matthew Raw, came on the walk too.  He was amazed the fragments we found were not swept out to sea but remained more or less where they had fallen or were thrown into the River.  The water simply churns under a smooth surface.  With  cardboard and raw clay Matthew created Churn in response.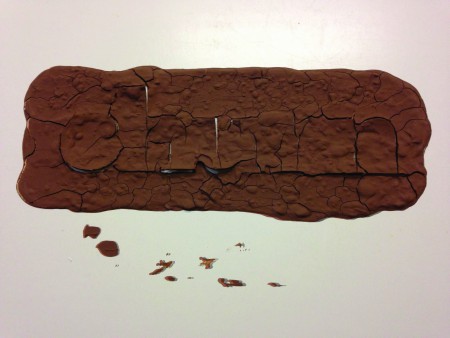 Civic Spaces, Exhibitions
Museums and Galleries, Regeneration
Maker spaces, Rural Sites
Archaeology
Youth and Adult Community Groups, Professionals
Art Groups, Families, Students
Collaborations, Archaeology Sheets
Commissions, Thinking Hands? Research
Knowledge Exchange