Clayground a contributor to groundbreaking new handbook for artists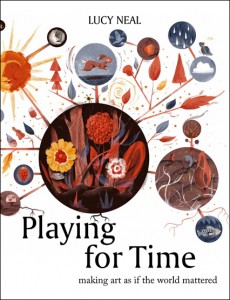 Playing for Time: Making Art as if the World Mattered is a resource for artists, community activists and anyone wishing to reach beyond the facts and figures of science and technology to harness their creativity to make change in the world.
This timely book explores the pivotal role artists play in re-thinking the future; re-inventing and re-imagining our world at a time of systemic change and uncertainty. Playing for Time identifies collaborative arts practices emerging in response to planetary challenges, reclaiming a traditional role for artists in the community as truth-tellers and agents of change.
Sixty experienced artists and activists, including Clayground Collective, give voice to a new narrative – shifting society's rules and values away from consumerism and commodity towards community and collaboration. Inspired by the grass-roots Transition movement, modelling change in communities worldwide, Playing for Time joins the dots between key drivers of change – in energy, finance, climate change, food and community resilience – and 'recipes for action' for readers to take and try.
To order, go to Oberon Books website
Author Lucy Neal OBE, gave a lecture at the Royal Society of Arts on ideas explored in the book: The Citizen Artist as Agent of Change.  You can watch it here.
Civic Spaces, Exhibitions
Museums and Galleries, Regeneration
Maker spaces, Rural Sites
Archaeology
Youth and Adult Community Groups, Professionals
Art Groups, Families, Students
Collaborations, Archaeology Sheets
Commissions, Thinking Hands? Research
Knowledge Exchange